(No secrets from the show were spilled in the recounting of this tale.)
The year was 2012.
One hundred years after the sinking of the Titanic, the unsinkable ship sank all over again. The tragedy brought upheaval and grief to the Crawley family at their ancestral home in Downton, England and spellbinding heartache to middle-aged women across the United States of America.
The DVDs for seasons 1 and 2 were forced upon me by our lake neighbors during spring break. Abby and I laid on the swing bed in the yard, enjoying sunshine and fresh air as we fought The War to End All Wars, while watching back-to-back episodes of Downton Abbey on the laptop.
We met Lady Mary and her younger sisters, the modern Sybil and the mean, misunderstood, middle-child Edith. We swooned over the dapper Lord Grantham and the handsome Matthew. We cackled at the quips that the Dowager Countess of Grantham and Cousin Isobel tossed at each other. We seethed at the wicked Thomas and his sidekick O'Brien. We cheered for the romance between Bates and Anna. We relished every delicious disagreement between Daisy and Mrs. Patmore.
The war, the two seasons, and the week at the lake regretfully ended. Soon after, we learned that we would have to wait until JANUARY 2013 for more news from Downton.
Blimey.
As season 3 approached and excitement overflowed to Facebook, my friend Sharon suggested we gather for the first show. I said, "You're quite a plotter when you want to be aren't you?" (Not really. Carson said that.) I said, "Come on over." Lori came, too.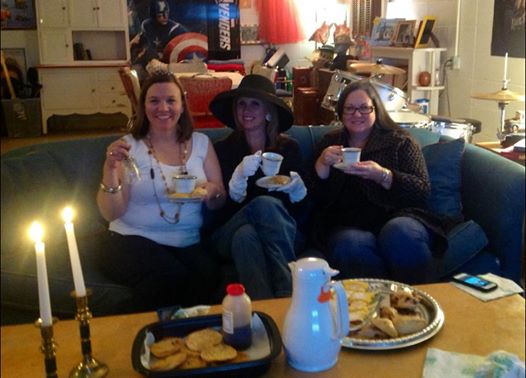 We posted our picture on Facebook to see if anyone else wanted to watch with us the following Sunday. Laura, Janet, and Kim exclaimed, "Goody! Goody!" Janet found some spare tiaras at her house to adorn the lovely participants.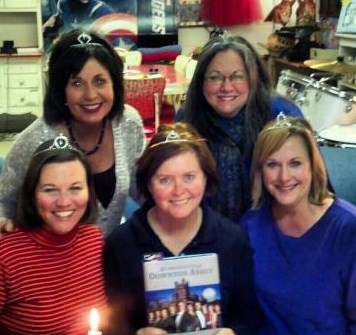 Norbert, Carol, and Mary Lise thought we looked like frolickers. They wanted to frolic, too.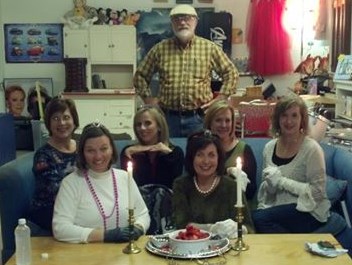 .
Laura offered to host the viewing the next week. I had three children at home, and her children were all at university. With the chalk signatures on the ceiling and an Avengers movie poster consuming half a wall in the playroom, I have a perfect spot for church youth progressive dinners at Christmas and silly-girl sleepovers. Laura's tasteful, classy house seemed the proper place for our Downton doings.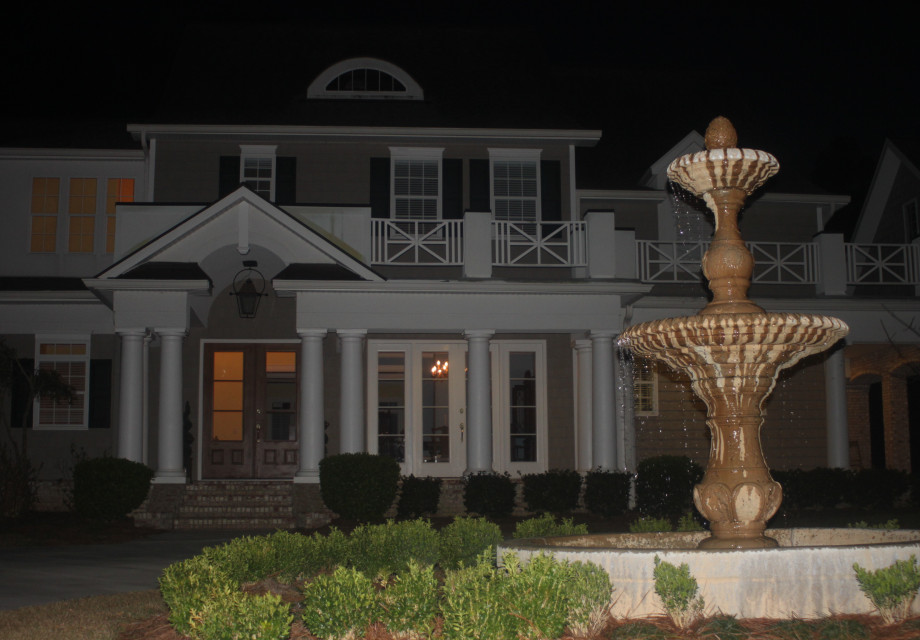 The dressing up began in earnest. ("I suppose she has an appropriate costume for every activity." – Violet Crawley, Dowager Countess of Grantham)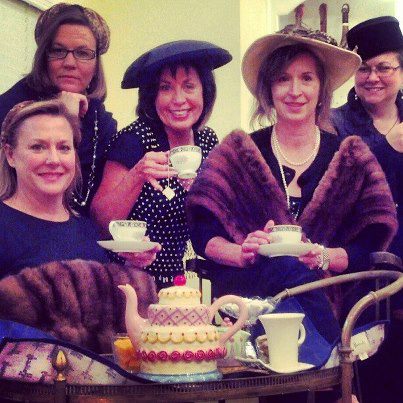 Because "nothing succeeds like excess," we did "something jolly" with our hair and celebrated the finale full monty. (It means everything which is necessary, appropriate, or possible. "Oh, get off with you, you cheeky devil.")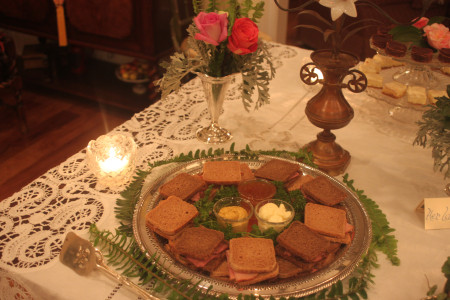 .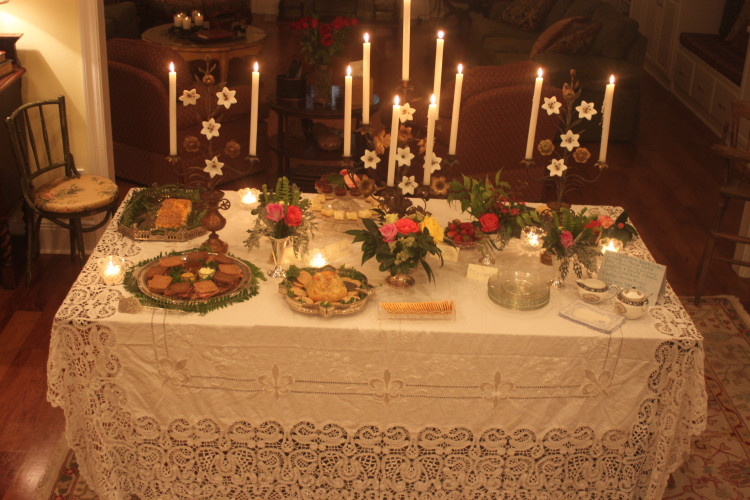 .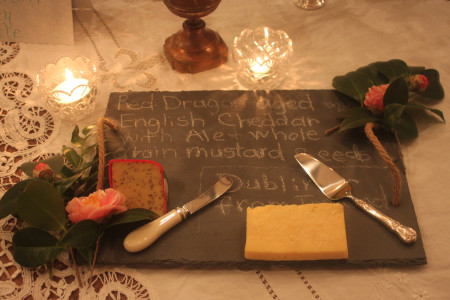 Vicki joined us. And Mike indulged us.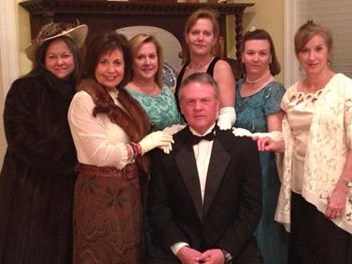 Then, poof, the craic was over.
Our terribly defeatist, middle-class attitudes set upon us. How would we survive the gloomy year ahead without one-liners from our favorite Brits?
Well, some of us thought they bloody well couldn't. Charla united with our primrose pals and skedaddled across the pond with Laura, Vicki, and Janet. They toured Highclere Castle (the filming location for Downton Abbey) and were served tea underneath a tent on the vast lawn. They visited the village of Bampton and saw the church and cemetery and Crawley House, where Cousin Isobel lives.
(To remind us weekly, they holler, "We've been there!" and "We saw that!" and "That's our bench!" in case the underlings left behind might not have heard the taunting last week—or the week before. But I bitterly digress.)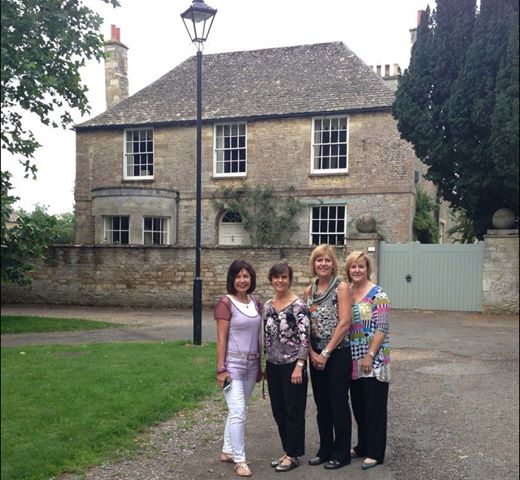 We muddled through the dreadful wait until at long last January 2014 peaked forth from the new calendar. Laura graciously welcomed us back to Everett Manor.
Susan wanted in!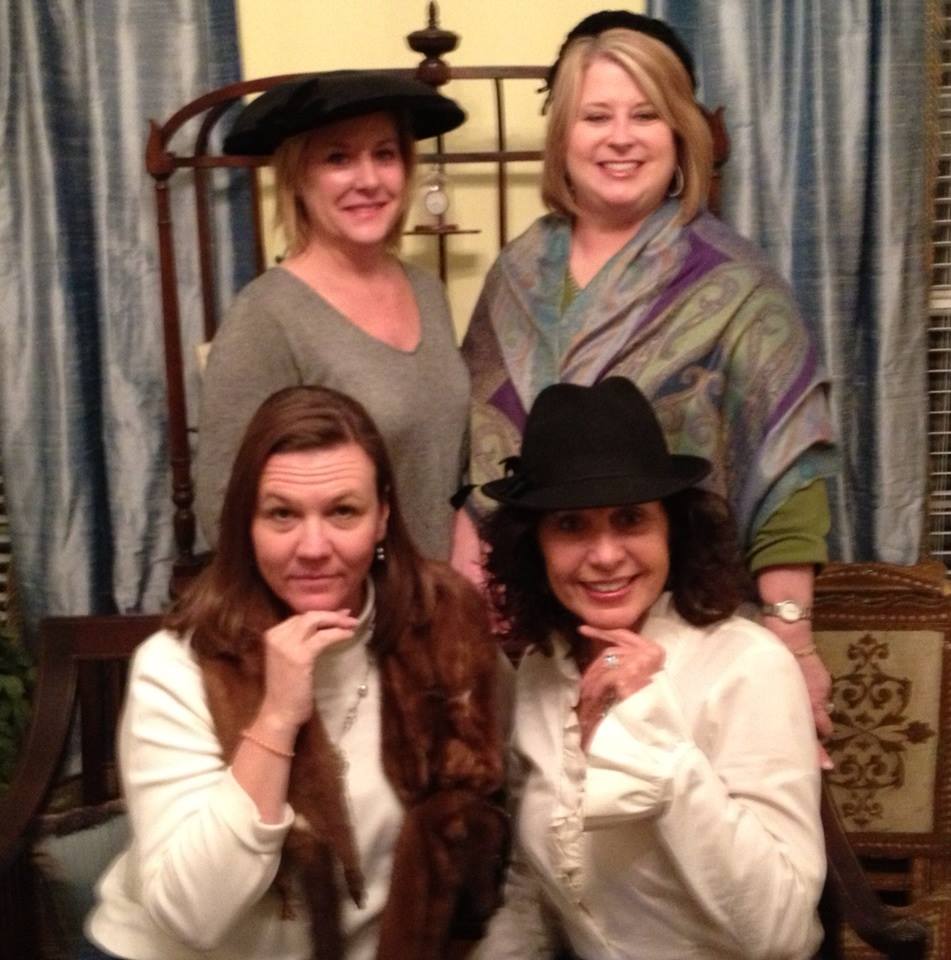 And Annetta!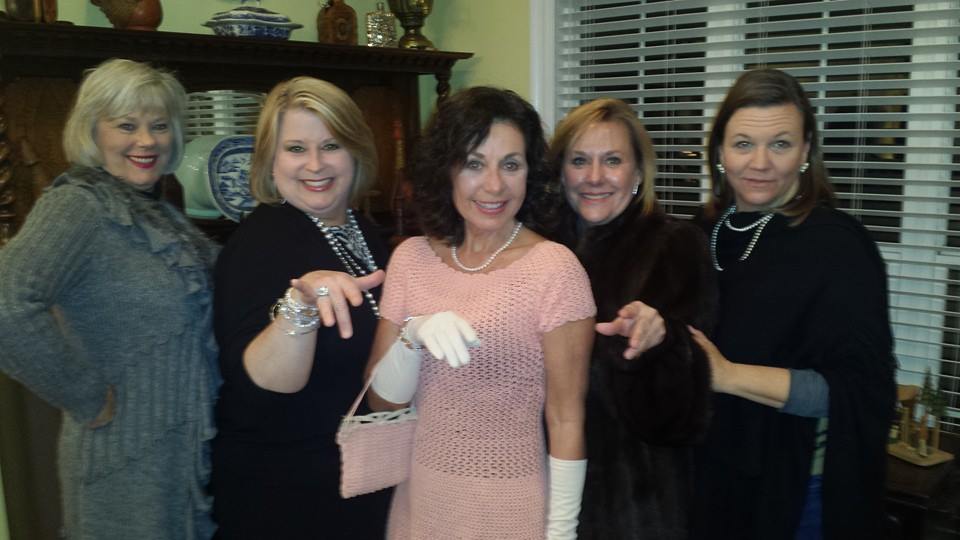 And Balto! (Maybe Balto didn't want in as much as we wanted him in.)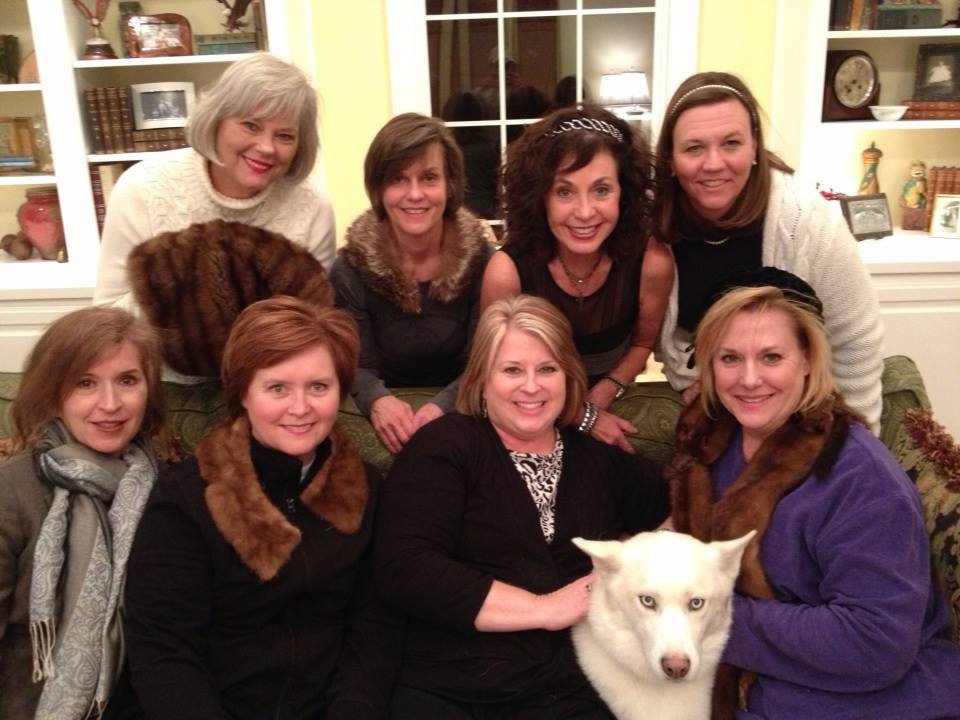 And Melissa and Melanie and Pat! (Our very own dowager countess has to call both of her daughters to check in once she gets home.)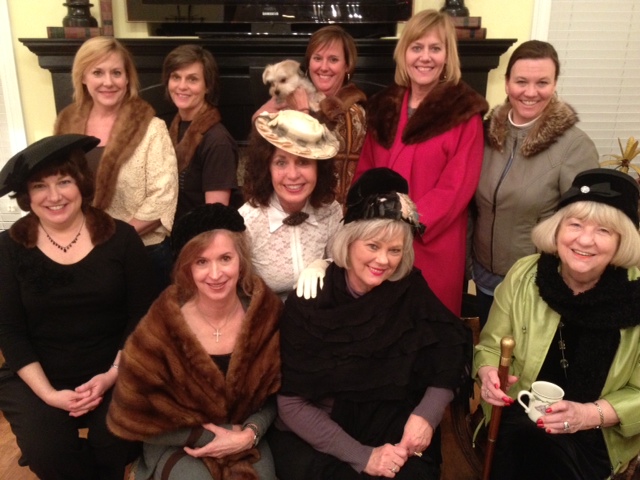 Laura even has a posh millinery collection for us to raid every week!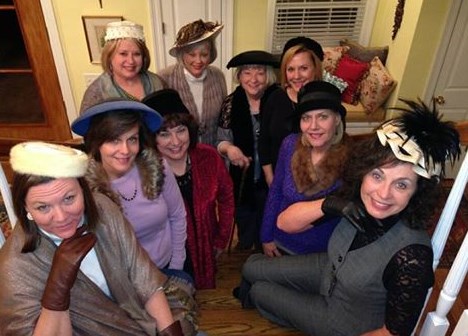 Again, we approached the season finale with a mixture of anticipation and dread. We dined in high style for high tea as we savored each scene. The moments were bittersweet, "both irritating and beguiling in equal measure."
Alas, we are Downton-less once more.
We are gobsmacked, clueless as to what to do next. How will we go on? What do we have to look forward to? Should we change our pills?
Carson told us, "The business of life is the acquisition of memories. In the end, that is all there is."
So, we shall sit for 10 months and remember. We shall while away, twiddle our thumbs, and bugger about.
I suppose the dowager countess would tell us as she told Edith, "You're a woman with a brain and reasonable ability. Stop whining and find something to do."
Yes, m'lady.
(See you in January 2015.)