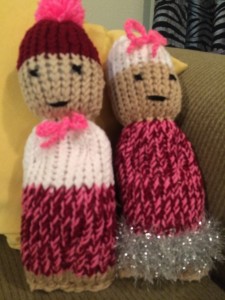 To misquote Pinocchio, "I've got a real blog!" In celebration of this magical occasion in the life of a chatty, nap-loving, middle-aged mama, I am hosting a giveaway.
Whitman and Rose are Valentine's babies that were lovingly handmade by Emma Conner, Crafter Extraordinaire.
Whitman and Rose need a forever home. Wouldn't you like for them to live with you? Even better, wouldn't you like to gift them to a child you cherish or a female you favor or a sensitive man who's your sweetheart?
To win these treasures, you must comment on one of my blog posts. You must comment on Blabberings, not Facebook. You will receive one (1) entry per comment. You may comment on more than one blog post.
You may say anything you like, as long as it's not unkind or Roll Tide or Roll Tide Roll or any combination or abbreviation of said words. For example,
 I read your blog to my granddaddy, and he laughed until his teeth fell out.
You are by far the prettiest King Girl.
Gee, I must get back to the laundry.  
The contest will run until 12:00 pm (noon) CST, Sunday, February 9. Prepare to be pestered ad nauseam via Facebook or just block me.
A low-tech strip of paper with the entrant's name on it will be placed (1 per comment, as stated above) in this cute little Valentine's heart bowl and will be drawn at random by Emma Conner, Crafter Extraordinaire.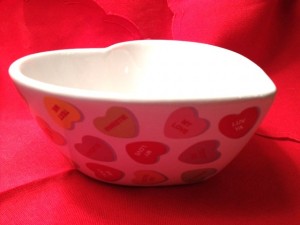 The winner will be announced sometime that afternoon (probably after my nap) and must pinkie promise to take good care of the babies. Whitman and Rose will be taken to the post office on Monday morning and mailed to the winner. (And by "Monday morning," I mean "Tuesday afternoon.") Unless there is another big snow storm in LA (Lower Alabama), the babies will be on the winner's doorstep in time for Valentine's Day.
CUTIE PIE!   LUV U!   BE MINE!   FOREVER!  TRUE LOVE!