The details of how we ended up in the hospital the week of Christmas are irrelevant to the story. Chart it to complications of the damn diabetes.
Tuesday was awful.
Wednesday was better. He was supposed to go home on Thursday. Instead, he was returned to ICU.
Thursday, Christmas Eve, was the worst day. But the night was better. A silent night, I suppose, so he was moved to a room. By then, it was Christmas Day.
The relentless rain eased about the time the day dawned.
The room was on a corner and was huge. It had a full sofa and three chairs. The kids brought the presents, the Christmas CDs, and a Charlie Brown tree.
We opened presents one at a time, like always, so everyone could see what everyone else got. As always, Emma received the most gifts. She likes to win the gift competition, so we let her. She got crafting supplies. Abby got books. Phillip got toy weapons. I got a fresh pair of bedroom slippers, and Chuck got a box of Whoppers. Just like always.
The Hams needed to get out of their house, so they came to visit. The kids played a vicious, ugly game of Bananagrams in the middle of the floor. "A Christmas Story" was playing non-stop in the background, as always. Hearing Mr. Ham's boisterous laugh a time or two was a highlight of the day.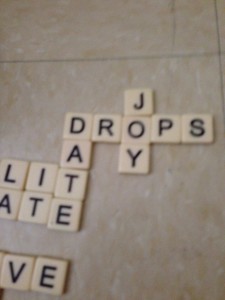 Catherine sent Todd bearing leftovers for supper. She sent it on Christmas china with real utensils. The filet mignon was slightly better than the hospital pot roast on Styrofoam that we had for lunch.
The kids and I found two children on the pediatric hall who were also stuck in the hospital for Christmas. Emma gave each a baby doll that she knitted. Since both patients were boys, we called the dolls action figures. We gave bags of candy to Chuck's nurse and technician.
Terri and Keith came by on the way home from their festivities with a treat for Chuck.
My family LOVES to do things the way we always have. We covet tradition. We crave the same. A couple of years ago, Emma asked for a particular Christmas sweatshirt. That year, Chuck and I let each open one gift on Christmas Eve, so Emma could wear her new sweatshirt to church. I told them, "This is a THING! This is NOT a tradition! We are NOT starting something new."
(It was so hot in Alabama this Christmas, and therefore, so cold in the hospital that Emma got to wear that Christmas sweatshirt after all.)
At Christmas dinner in the cafeteria, Emma asked the blessing on our food and thanked God for showing us that Christmas is not about the usual. She thanked Him that we had to step out of our comfort zone this year. She asked Him to please make this a THING and NOT a tradition.
The most inconvenient Christmas ever was
Was the first one
When God came so far to give himself to us,
So when the stress hits each December
How it helps me to remember
God is with us most when things just can't get worse.
The most inconvenient Christmas ever was
Was the first.
(from "Inconvenient Christmas" by Kyle Matthews)
Sometimes we overlook grace.
Sometimes we get so comfortable that we forget.
Sometimes we get so frightened that we think we are forgotten.
Sometimes we need a tangible reminder.
Sometimes we need to look grace in the eyeballs.
As we were settling into the huge corner room of the hospital on Christmas Day, a young woman in scrubs said:
"Hi! I'm your nurse. My name is Grace."