First, this happened:
Then this: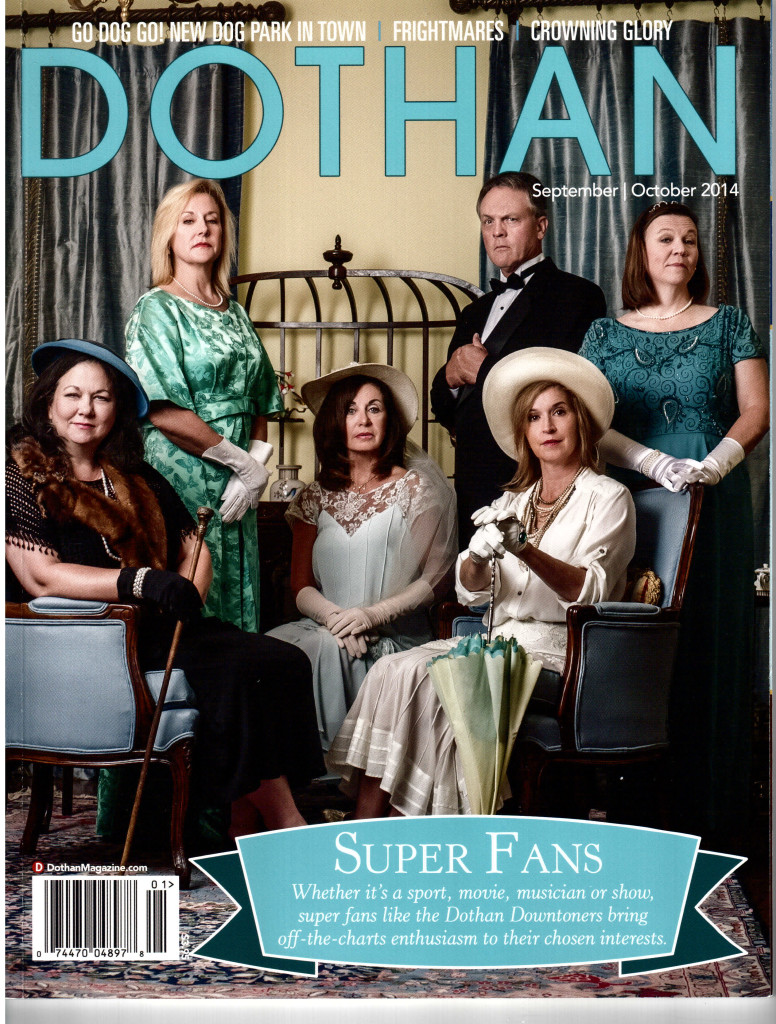 As I age, I care less and less about television. I rarely watch it. I almost never watch it alone. I think Jimmy Fallon is the funniest man alive, but I only watch The Tonight Show if Chuck's awake. I feel a kindred spirit to Frankie Heck's chaos and Bevvy Goldberg's insane smothering of her children, but The Middle and The Goldbergs are LOL funny to me mostly because every Wednesday evening, my family gathers together and quips, "They are peeking in our windows again."
By myself, I watch reality shows, like American Pickers, Pawn Stars, or Diners, Drive-ins, and Dives, but only when there is laundry to be sorted. I like them, because I don't have to pay much attention. I used to watch Today, and I especially liked Kathie Lee and Hoda, but I rarely turn on the TV in the mornings anymore, except for Sundays. I like the gentleness of Sunday Morning on CBS, while I'm dressing for church. I recently began recording it, so I can watch it later in the week, if I miss it when it airs.
But every Sunday night in January and February 2013, 2014, 2015, and 2016, I perched my patootie in the exact same spot on my friend Laura's couch and watched Downton Abbey, along with a dozen of my besties, wearing pearls and matching grey tee shirts that proclaim, "My Sunday nights are spent at Downton."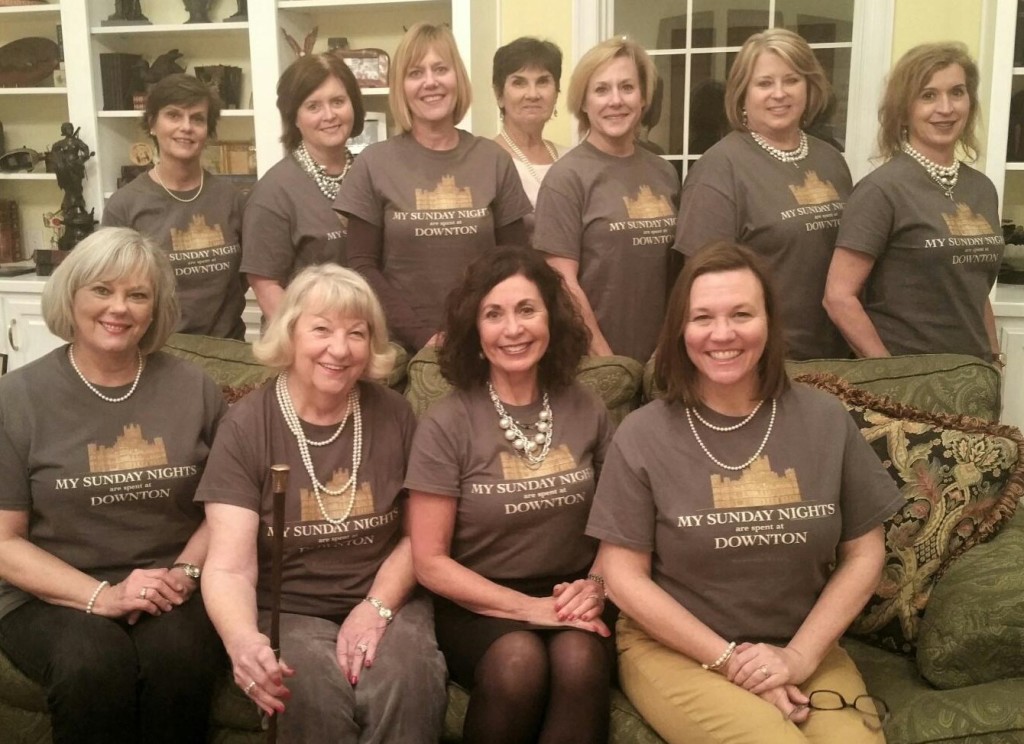 This was Linda's pledge year. After initiation, she got a tee shirt.
(Lean in closer. I am going to let you in on a little secret: I am not sure I would have watched the show by myself.)
While I love the sparring of Daisy and Mrs. Patmore, the villainy of Thomas, the devotion of Anna and Bates, and my heart belongs to Matthew Crawley, the pure delight of the show, for me, has been the community of my fellow Downtonites, a group of women who didn't set out to be a group—much less groupies.
We never meant to kick off a kerfuffle.
We never intended to host a hooley.
We never calculated being cock-a-hoop.
Our winters revolve around Masterpiece Theatre. We ask each other, "What are we wearing at Downton this week?" or despair to one another, "I can't go to Downton on Sunday!"
We range in age from 48 to 81.
All of us have been married, some more than once.
All of us have had babies, two had a set of twins.
Most have had a child to marry or are planning a wedding–or two–real soon.
About half have grandchildren, one has greats.
Only two still have children at home.
Some of us are retired. Some of us still have careers. Some of us never did.
The oldest of our bunch is the one we call our Dowager, because she is the only one who has buried her Beloved. I pick her up from her house every Sunday night. We drive to Downton together and discuss the plot twists in our lives. Afterwards, as I take her home, we discuss the plot twists of the show. I would tell her near 'bout anything. She loves me, and I trust her. She used to be my mama's friend, and now she is mine, a friend I never would have had without silliness surrounding a British television show on PBS.
Some of us knew we loved each other, but perhaps had forgotten how much.
Some of us didn't even know each other. That's hard to fathom, to remember when we weren't a Club, a Club whose only requirement for membership was to say, "Can I come, too?"
These women, these deliciously ridiculous women whom I never imagined befriending, taught me how to embrace 50 years old. They showed me how to relish—and rock—growing older.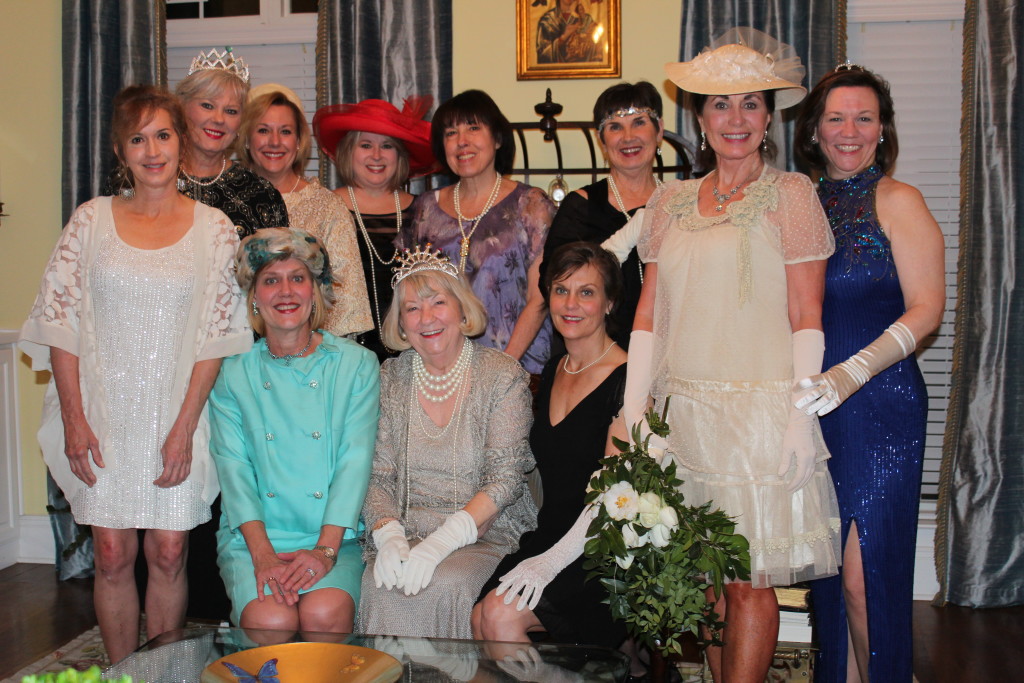 Season Finale Tea Party 2015
Mrs. Hughes and Mrs. Patmore didn't expect their friendship. Violet and Isobel despised each other when life thrust them together. Mary might not be so mean nor Edith so pathetic nor Cora so wrapped in both of their lives, if they had girlfriends. Rosamund surely has some girlfriends whom we never met. No one who lives by herself and has her act together could do it alone. She seems the most comfortable in her female skin. I'd like to be friends with Rosamund. I'd like for her to invite me to tea and gripe to me about her mother.
Our binding show had its curtain call.
The writer, Julian Fellows, put down his pen.
The costume designers are dreaming up clothes from a more recent decade.
The actors and actresses took their bows and scooted away to memorize lines for other projects.
Highclere Castle is void of lights, camera, action.
"What is to become of me?!" shouted Eliza Doolittle at Henry Higgins, after their experiment had ended and she had been passed off as a princess at the ball.
"Where shall I go?! What shall I do?!" begged Scarlett to Rhett, when it was over.
Personally, I plan to pout for a while, "until nostalgia has smothered my fury," until I'm able to giggle, "Golly gumdrops, what a turn up!"
Carson: What's so funny?
Mrs. Hughes: Just life, Mr. Carson. Just life.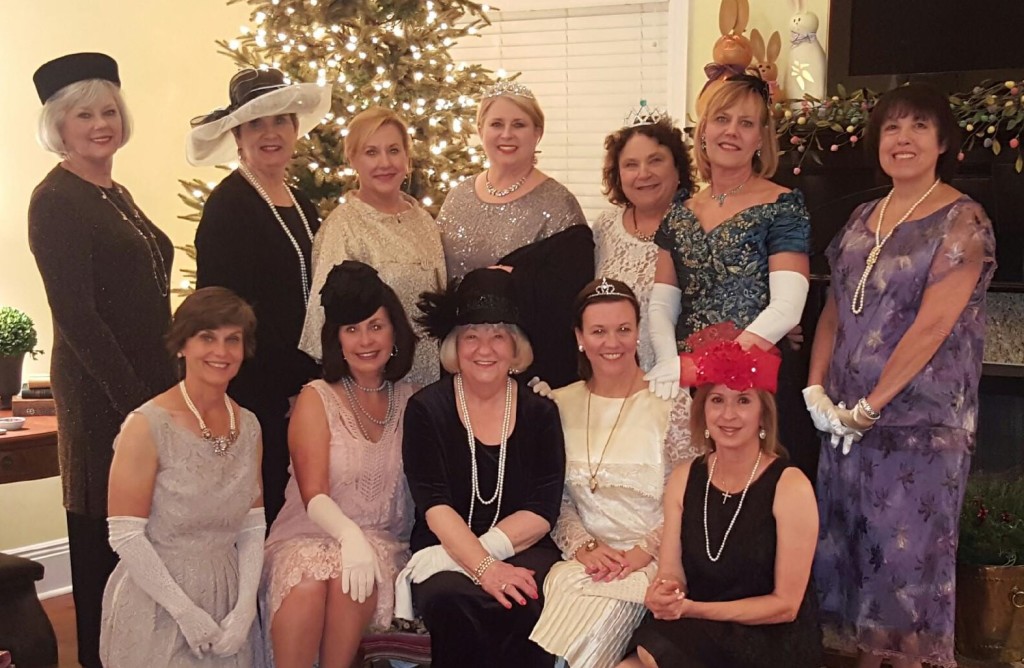 "We'll take a cup of kindness yet for Auld Lang Syne."